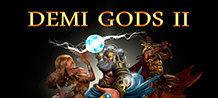 Meet this epic game that will exceed all your expectations. Live a unique experience in this Slot inspired by the Gods of ancient Greek mythology. An innovative game with 50 lines and 4 free spins modes.

Stay tuned because it will be very easy to meet the Gods, each round of free spins corresponds to one of them.

Surprise yourself with Zeus the father of the gods of Olympus, Aphrodite the Goddess of beauty and love, Ares the unbeatable warrior God and Hades the God of wealth. Discover the great benefits of each of them with incredible special effects and win many prizes!