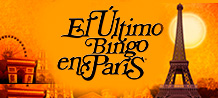 The Last Bingo Video Bingo in Paris will take you to know the Bastille, the Eiffel Tower, the Arc de Triomphe and Notre Dame.

This game offers 15 awards patterns, 10 extra balls and 3 bonus patterns.

In addition, you can win the biggest prize, the jackpot!

Play, have fun and win with the Last Bingo in Paris!