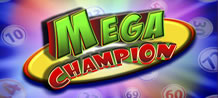 If you are looking for a classic Video Bingo game you just found!

In the Mega Champion you can play with up to 4 cards with 25 numbers and 3 extra balls, in addition this game offers 10 prizes per card and the more you bet, the bigger the prizes.

You can earn 10%, 20%, 30%, 40% or 100% of the accumulated!

Have fun without limit!